Jananne Al-Ani
Jananne Al-Ani (born 1966 in Iraq) works with photography, film and video. She is interested in the relationship between aerial archaeology and the technologies of surveillance in modern warfare.  In recent years her work has focused on the Middle Eastern, the American as well as the British landscape.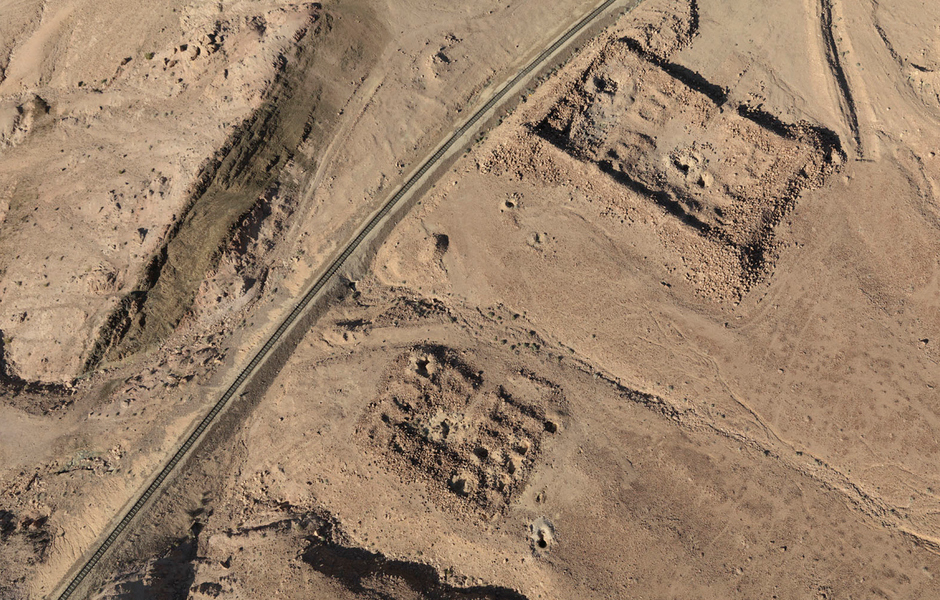 Shadow Sites I
Digitised Super 16mm film, 14 min 20 sec, 2010
Since 2007, Jananne Al-Ani has developed a body of work titled The Aesthetics of Disappearance: A Land Without People, which explores the disappearance of the body in contested and highly charged landscapes. Shadow Sites I focuses on the landscape of the Middle East, which is frequently depicted as a desert, an exotic place with no history and no population, a landscape that has become familiar as the blank backdrop to military action.
In response to the development of aerial photography during the First World War and the subsequent production of complex reconnaissance and satellite imaging devices used during the 1991 Desert Storm campaign and the 2003 Gulf War, Shadow Sites I adopts the vantage point of such missions while taking an altogether different viewpoint of the ground surveyed. The film features land in southern Jordan bearing traces of natural and manmade activity from prehistoric remains, Nabataean and Roman sites, to First World War trench systems and present-day roads, buildings, and agricultural developments.
The term 'shadow site' is taken from the field of aerial archaeology, a practice that developed as a direct result of the discovery of previously unknown archaeological sites during aerial operations carried out in the course of the First World War.
Seen from above, the landscape appears abstracted, buildings are flattened and inhabitants made invisible to the human eye. Only when the sun is at its lowest point do features on the ground, such as archaeological sites and settlements, come to light. Much like a photographic plate, such shadow sites reveal the latent images held on the surface of the earth, exposing signs not only of loss but also of survival.